Featured Item
Much loved rock salt candy made of salt from remote Mongolia ¥350 is now on sale!
This rock salt candy contains plenty of mineral-rich Mongolian rock salt. Ideal for supplying salt after sweating and/or mineral intake when tired.

We also offer shipping as a souvenir or a gift.
Sweets Various
Ariheito (black soybean)¥350

Ariheito (peanut)¥350

Ariheito(black sesame)¥350

Daikokubo¥350→¥300

Cup-ame¥250

Mugikogashi¥280

Karume-yaki¥250

Tamago-boro¥350

Imo-youkan¥350

Cashew nut macaroon¥350

Tomato-okaki¥350

Tai-senbei¥250

Mayo-okaki¥380

Fukuresen-fukudaruma¥200

Fukuresen¥200

Usuba-yaki¥350

Karinto¥350

Konbu-ame¥350

Ume-konbu-ame¥350

Konpeito¥350

Ramune¥350

Jelly Beans¥350

Shouga-ame¥350

Matcha-ame¥350

Nikki-ame¥350

Doubutu-yochi¥350

Renkon-nodo-ame¥250

Panda-ame¥350

Okonomi-Source-senbei¥350
Mongolian Rock Salt
Rock Solt Mass(gram selling)

Rock Solt(Large Grain)¥370-

Rock Solt(Small Grain)¥370-

Rock Salt Candy¥350-
Natto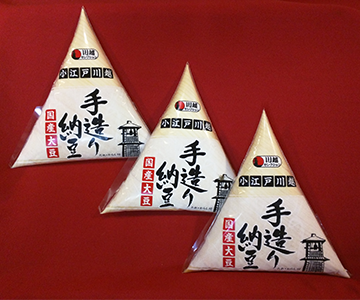 This handmade natto is fastidiously prepared in "Koedo" Kawagoe. Enclosed in "Kyougi" (shaved pine wood), the distinctive savour of natto stays inside.
Our handmade natto is very popular for its sweetness and umami as well as for plumpness and softness.
¥130 each
Manufacturer: Watanabe Shokuhin Seizoujyo
http://koedo-natto.rexw.jp/shohin.html